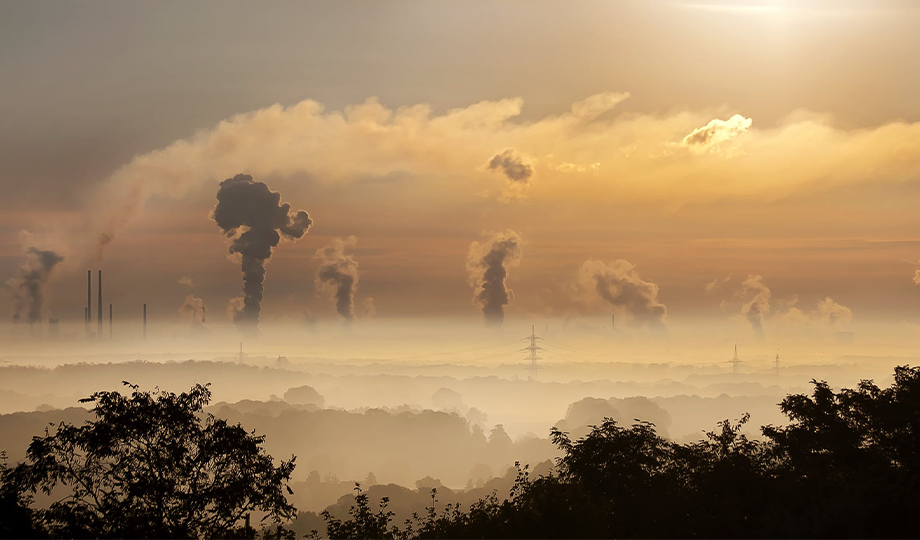 Driving around Sheffield recently, I have noticed a lot of signs about being air aware and various pieces of advice about reducing local air pollution. I've only noticed this fairly recent development so it made me wonder what had inspired such signs and what their significance was in Sheffield. A little research showed me the Air Aware Sheffield campaign. And this is not just an issue in Sheffield, the warmer weather earlier this year, around Easter, highlighted air pollution again as an issue throughout the UK.
Poor air quality, based on the type and quantity of pollutants in the air, can have an impact on the health of people, animals and plants. While we have come a long way from the days of the London Smog in 1952, cities like Sheffield have high levels of air pollution. Pollutants come from a wide variety of sources including road traffic, industry and heating homes and buildings. The main areas of concern are particulate matter (both PM10 and PM2.5) and the gas nitrogen dioxide, although we do breathe in other pollutants such as sulphur dioxide, ozone and carbon monoxide. Particulate matter can be made up of anything from concrete dust to biological waste and heavy metals. The particles in the air are so small you can't see them, meaning you breathe them in without noticing. Nitrogen dioxide comes from the burning of fossil fuels and other materials and is released predominantly from road traffic and is a particularly dangerous gas to breathe in.
Sheffield is one of many cities putting various measures in place to improve air quality for the people who live in and visit the city. One of these strategies is the development of an Air Quality Action Plan which includes what has been done to date and plans for the future. They include assessing the feasibility of a Low Emission Zone, developing infrastructure for low emission vehicles and the control of industrial emissions.
The Air Quality Action Plan commits Sheffield Council to work closely with the Environment Agency to ensure the permits that are granted are enforced in a way to reduce emissions. Industrial emissions contribute 45% of the particulate matter released in the city, and as such, actions are focused around reducing fine particle emissions. Efforts include upgrade processes that are ongoing at regulated sites and to ensure improvements are required as new pollution reduction technology is introduced. One of the ways industries can help and contribute to this aim is to demonstrate that they are keeping within the prescribed limits of their permit and improving through monitoring. Monitoring emissions is often a permit requirement but it can also give businesses good data to help stay compliant and identify potential process and efficiency improvements. Continual monitoring highlights any potential issues and breaches in consent immediately, allowing businesses to respond quickly to avoid pollution and potential breach of their permit.
The Air Aware Sheffield campaign itself shows the benefits of monitoring. The air quality of Sheffield is monitored 24 hours a day, 365 days a year by automated equipment and simple manual methods. There are eight air quality monitoring sites in Sheffield controlled by Sheffield City Council and DEFRA (Department for Environment, Food and Rural Affairs) that measure various pollutants. In addition to this, there are around 160 locations that monitor nitrogen dioxide levels.
Poor air quality is a health risk, particularly in cities where there is a lot of traffic and industry. Various health issues have been linked to poor air quality such as asthma and bronchitis. There are a number of ways that we can help to reduce this risk. Using cars less and reducing the traffic on the road is one way that is encouraged by Sheffield City Council. Car sharing, cycle to work schemes and using public transport are all encouraged, but the use of more efficient vehicles will also help to reduce pollution. If you work at a site that emits air emissions, it is important that you ensure you remain within consent and only emit what you are allowed to. Monitoring, using reliable and well maintained equipment will help your emissions to remain within consent and alert you if you are approaching or have breached your emission limits. You will also have to look at the best available techniques and technology to reduce your emissions, even when you are within consent, and those reductions should also be monitored. As Sheffield City Council has said through the signs I've been noticing, we can all contribute to better air quality in the areas we live in.