Four Steps to a Sustainable Holiday Season
22 December 2021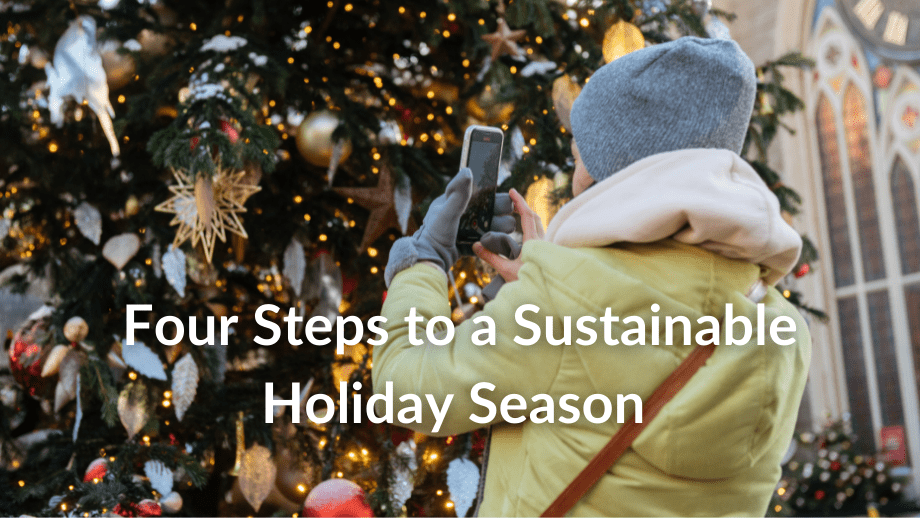 As the gift-giving season approaches its peak, you may be taking stock of the amount of waste that piles up.

Our spending increases by an average of £700 in December. (Bank of England) Our purchases include more food than during the rest of the year as we host other people (and, on Christmas Day ¼ of us allegedly consumes 6000 calories (The Independent). The increase in our food purchases inevitably leads to more plastic packaging waste. This is alongside the waste from our discarded stocking-fillers, non-recyclable wrapping paper, plastic decorations and waste from Christmas crackers.
How could we make our holiday season more sustainable?


1. Using brown/last year's wrapping paper – Most wrapping paper is either laminated, contains dyes or glitter and other non-recyclable elements. Using alternatives such as brown paper for a rustic look, getting creative with fabrics, or repurposing last year's wrapping paper may save you a shopping trip. Or, FSC Certified wrapping papers can ensure that your paper comes from a responsibly managed forest. You can also look for FSC certified cards. This certification is important, as if you are weighing up buying FSC paper against buying new "recycled" paper, according to the Guardian "a lack of credible certification means 'recycled' paper might not contain a very high level of old paper." (The Guardian)
2. Did you know that this year an estimated 17 million Brussel sprouts will be thrown away? (GWP)
Another quick way to be more sustainable is to cut out the food waste. This also helps to reduce plastic packaging waste. Quick solves for this include sticking to a shopping list, freeing up some freezer space to make room to freeze leftovers, and not panic-buying in the heat of the moment. It is also worth noting that buying "ugly" vegetables that would otherwise not make it to retail due to consumer expectations helps to reduce Food Loss within retail and the supply chain.
3. Using a Christmas tree recycling scheme so that no Christmas trees go to landfill. Signing up online for one in your area may only take seconds. In Sheffield, for example, you can use the following scheme: http://www.thesheffieldchristmastreecompany.co.uk/recycle. Picking a real tree can help prevent plastic waste – in fact, it is estimated that it would take 12 years of use of a plastic Christmas tree for it to be more environmentally friendly than using a real tree. (Science Focus)
4. More thoughtful gifts. To avoid unnecessary waste, spend some time planning out presents for loved ones before shopping, and resist the temptation to buy many plastic stocking fillers. For example, shampoo bars are widely available, rather than increasing consumption of non-recyclable plastics from shampoo bottles. Sustainable Christmas tree decorations can be made of glass, metal, or wood. These can be recycled or repurposed more times than plastic.
There is no denying that plastics are necessary – in medical contexts and to prevent food wastage by preserving the shelf life of foods, to take just two examples. But remembering that plastic cannot be recycled infinitely (a maximum 2 or 3 times), and that it loses quality with each further stage of recycling, can encourage more sustainable choices through the festive season.