World Population Day: 11th July 2020
10 July 2020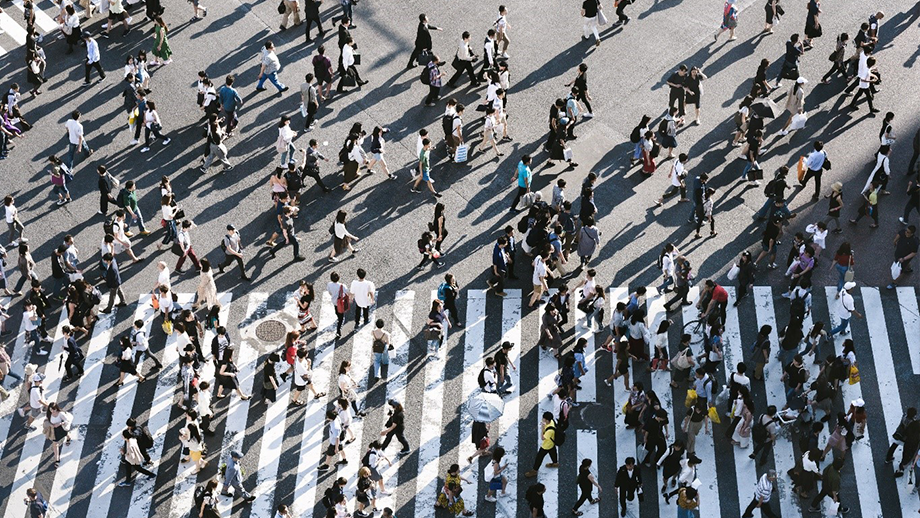 World Population day is an annual event, which seeks to raise awareness of global population issues. The day was established in 1988, by the UN, to mark the population reaching five billion. The population (as of 10th July 2020) has now surpassed 7.8 billion.
Why is overpopulation important?
The number of people on the planet, and how we choose to live, directly affects every aspect of the planet: the land, oceans, wildlife, air quality, water, and climate. We must recognise this and make changes in order to limit the negative effects associated with the increasing population.
It has been estimated that our planet's resources can only sustain the quality of life enjoyed by those within the European union to around 2 billion people. The remaining population of around 5.8 billion people (or more) have reduced welfare and poor access to food and resources. With an increasing population, and increasing demand for natural resources, the question of how many people the Earth can support is becoming ever-more intense. One important aspect is agriculture; whether we can grow enough food to feed the increasing population.
Current advances in agriculture, such as improved plant breeding, and the use of chemical fertilisers, have enabled global harvests to increase, however, it is uncertain how long this demand will be met. Climate change, and increasing flood risks, endanger valuable agricultural land. It has been said that roughly 1 in 8 people are living with limited resources, and do not have enough food to sustain them. This leads us to pose the question; "Where will food for an additional 2 to 3 billion people come from when we are already barely keeping up with 7 billion?"
When it comes to natural resources, studies indicate we are living beyond our means, and must reduce our intake significantly in order to 'spread the resources' and ensure everyone is entitled to a decent standard of living. Those of us in developed countries are consuming far more than our share, buying extravagant gadgets, vehicles, and over-indulging. With all of this considered the demand for energy is expected to double in the next two decades. The graphic below represents the rates of consumption within different countries and highlights the disparity between the use of natural resources across countries. Similarly, whilst one in eight go hungry, around 40% of the food grown in the world is sent to landfill.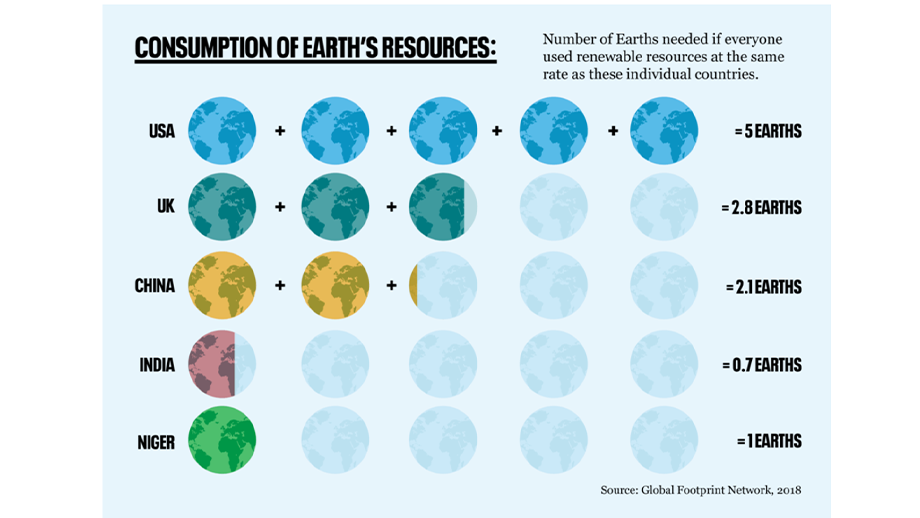 What needs to be done?
One of the main factors affecting population growth is increased fertility rates. Reducing this is essential and it has been suggested that this can be achieved through improved education for girls, increased career opportunities, and increased availability of contraception (specifically in developing countries). Increasing the availability of electricity within these countries can also increase educational opportunities.
Overconsumption is arguably a larger issue than overpopulation and raising awareness regarding these issues is an important step towards change. Some individual actions we can take include: reducing personal consumption and educating yourself and those around you, reducing the amount of waste we personally produce, and eating sustainably (for example cutting down on the consumption of meat).
What steps are you taking towards increased sustainable living? Why not try a waste-free week, or meat-free Monday?