EMS is Delighted to Welcome David Claridge to the Team.
19 August 2021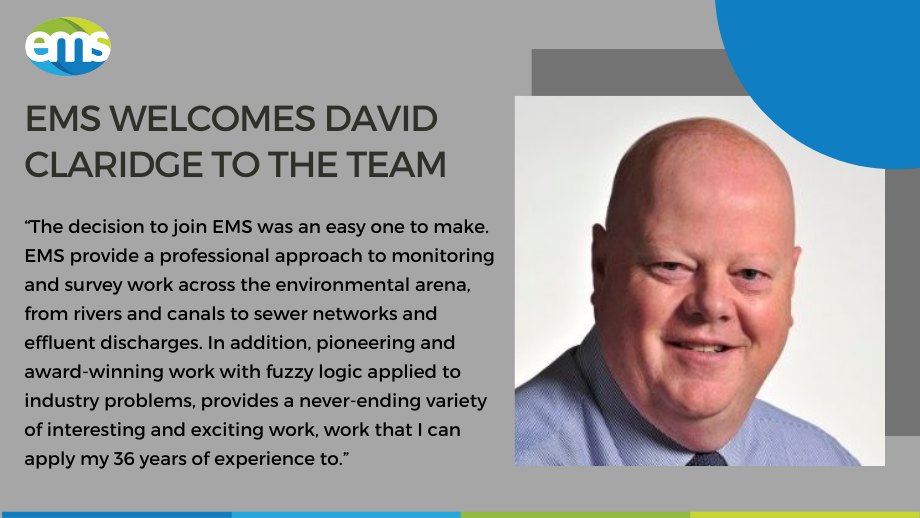 We are delighted to announce that David Claridge has joined EMS as our new Business Development Manager for the Water and Wastewater division.
David has over 30 years of experience working in the industry and he is well known and respected with many of our existing water and wastewater clients. He will bring this experience and in-depth knowledge of industry practice to his new role to strengthen and enhance our existing client relationships and to maximise further opportunities.
David's expertise includes process control, water and wastewater treatment, instrumentation and measurement and he has an extensive and varied background covering all aspects of the water and wastewater industry.
David is pleased to be joining the EMS team, he said:
"The decision to join EMS was an easy one to make. EMS provide a professional approach to monitoring and survey work across the environmental arena, from rivers and canals to sewer networks and effluent discharges. In addition, pioneering and award-winning work with fuzzy logic applied to industry problems, provides a never-ending variety of interesting and exciting work, work that I can apply my 36 years of experience to."
"My welcome to EMS has been outstanding, everyone is very helpful and friendly. I look forward to contributing to the future success of EMS and providing as best a service as possible to existing and future customers."
We would like to wish David the best of luck in his new role.