Fortnightly Bulletin – 1st November 2021
2 November 2021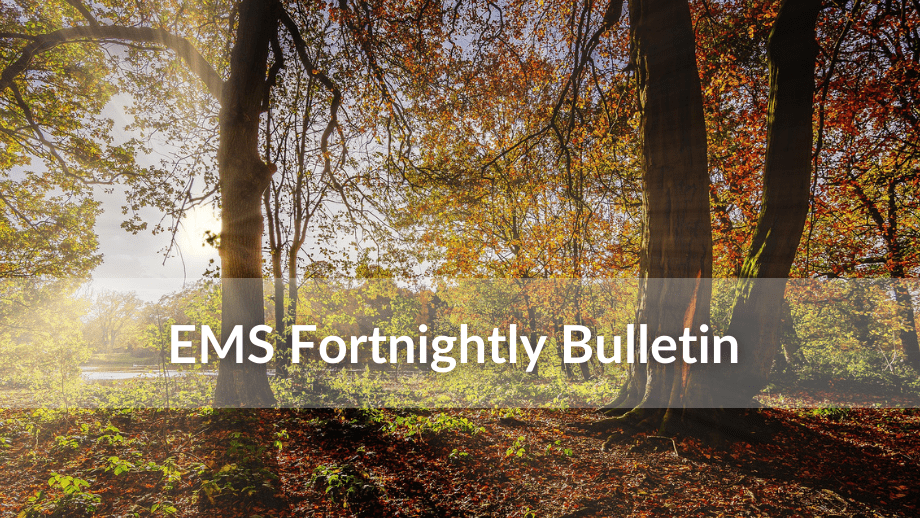 Dates for the Diary
8th November 2021
The consideration of amendments for the Environmental Bill are due on the 8th November 2021. The first, second and third reading of the Environmental Bill have been completed, with the final report expected to be published in January 2022.
The Environmental Bill Consideration of Amendments
Articles of Interest
PM launches new initiative to take Green Industrial Revolution Global
UK launches 'Clean Green Initiative' at COP26 to help developing countries take advantage of green technology and grow their economies sustainably. The Prime Minister is announcing a major funding package at COP26 to support the rollout of sustainable infrastructure and revolutionary green technology in developing countries, helping to tackle climate change and boost economic growth. This funding helps to tackle climate change and boost economic growth to support the Clean Green Initiative. The UK will deliver over £3 billion in climate financing for green growth in developing countries over the next five years, including £200m for a new Climate Innovation Facility. This is double the amount the UK's development finance institution, the CDC, invested in climate projects its previous strategy period from 2017-2021.
Prime Minister Boris Johnson said "The climate has often been a silent victim of economic growth and progress – but the opposite should now be true. Through the Clean Green Initiative, we can help to build back better and greener from the pandemic and put the world on the path to a more sustainable future."
For access for the full article click here.
Extra funding to create jobs, expand woodlands and protect trees
Applications for a new £6m fund start from the 3rd November, with environmental charities, not-for-profits, local authorities and protected landscape bodies encouraged to apply. Action to get more trees in the ground, create more jobs and improve access to nature across the country has been stepped up with a new £6 million 'Trees Call to Action Fund'. Action to get more trees in the ground, create more jobs and improve access to nature across the country has been stepped up with the government setting up a new £6 million 'Trees Call to Action Fund'.
Grants of £250,000 to £500,000 will be awarded to projects across England, at least three of which will be for new regional partnerships set up to create woodlands at a large scale and improve people's access to nature, following the Forest for Cornwall and Great Northumberland Forest partnerships.
Today's announcement will support progress towards the Government's commitment in the England Trees Action Plan to at least treble planting rates by the end of this Parliament. The Plan, supported by over £500 million from the Nature for Climate Fund, outlines how the government will deliver this target, by announcing a programme of measures to boost tree planting and improve woodland management in England. Projects will be required to outline how they can best deliver against the England Trees Action Plan.
For access for the full article click here.
Scotland and Wales could be home to new floating offshore wind ports thanks to £160m UK government funding
New large-scale floating offshore wind ports and factories are to be built in the UK thanks to government investment, Prime Minister Boris Johnson announced on the 30th October 2021.
The newly allocated funding will support the target in the Prime Minister's Ten Point Plan to deliver 1GW of energy through floating offshore wind by 2030 – nearly 9 times more than the current volumes worldwide – as a stepping stone to substantial further growth in the UK of this technology.
Making the most of the deep waters off the Scottish coast offers huge opportunities for Scotland's coastal communities, building on its lead as a technology hub for offshore wind, including two of the world's first floating offshore wind farms off the coast of Aberdeen. The Celtic Sea is also a major development opportunity for the offshore wind sector, with a combination of deep waters and strong winds, and which is set to create significant opportunities for development in Wales, creating a new economic cluster that builds on its strong industrial heritage.
For access for the full article click here
Consultations
River Basin Planning: draft river basin management plans
The current river basin management plans were published in February 2016. The plans must be reviewed and updated every 6 years. It gives you an opportunity to give your views on the proposed long term objectives for the water environment and the measures to achieve them.
A consultation on the draft flood risk management plans 2021 to 2027 is running for 3 months from 22 October 2021, to co-ordinate with this 6 month consultation on draft river basin management plans.
Source Gov.UK, 22nd October 2021
Fines and Prosecutions
Haulier ordered to pay nearly £10,000 for illegal waste activity
A haulage company and its director were fined for moving waste in and out of the illegal site in Fineshade, Northamptonshire. They have been have been ordered to pay £9,923 for moving waste in and out of an illegal waste site.
The illegal waste site they used had no environmental permit and has been operated by serial waste offender who has been jailed for 18 months in January 2021. The lack of environmental permit meant that waste was stored on the bare ground, placing land and water resources, including the neighbouring Fineshade Woods, at risk.
Environment Agency Lawyer Sarah Dunne told the court that waste transfer notes are necessary to ensure that waste is handled safely and correctly. The company involved had many years of experience and knew that such documentation was required but didn't take steps to record waste movements in and out of the illegal waste site.
Source Gov.UK, 11th June 2021
Landlord fined for fly-tipping flat clearance
A landlord who fly-tipped the contents of a flat so another tenant could move in has been ordered to pay thousands of pounds by magistrates.
Whilst some rubbish was taken to a Waste and Recycling Centre, the induvial took the rest to a communal bin area and fly-tipped dozens of full black bin bags. Nearby CCTV caught the van the individual had hired and the man he employed for the day unloading the bags and leaving them next to the bins intended for resident use.
The individual , 39, admitted two offences committed on 9 May 2019 under the Environmental Protection Act 1990 that they had knowingly allowed the deposit of controlled waste on land that did not have a permit, and that they had been in charge of a motor vehicle whilst controlled waste was deposited from it.
Source Slough Bourgh Council , 17th June 2021
Online learning and events
Pledge to Net Zero – Creating The Business Case For Fast Climate Action
9th of November 2021, 16.00PM – 17:00PM (GMT)
Hosted during week 2 of COP26, this panel discussion is open to all and will focus on how to build a business case around taking action on climate change. It will also include the benefits and opportunities of taking climate action brings for your company, the best practical actions to take and the challenges companies face in taking fast action and how these can be overcome.
Reflecting on COP26: A Cross-Sector Discussion
15th of November 2021, 10:00AM (GMT)
This event will see leading environmental professionals from across sectors come together to reflect on COP26. Among other questions, the panel will highlight their key takeaways from the summit, the implications for their sector, and what more has to be done to ensure the delivery of tangible change.