Waste Acceptance Criteria Testing vs. Site Investigations
10 November 2021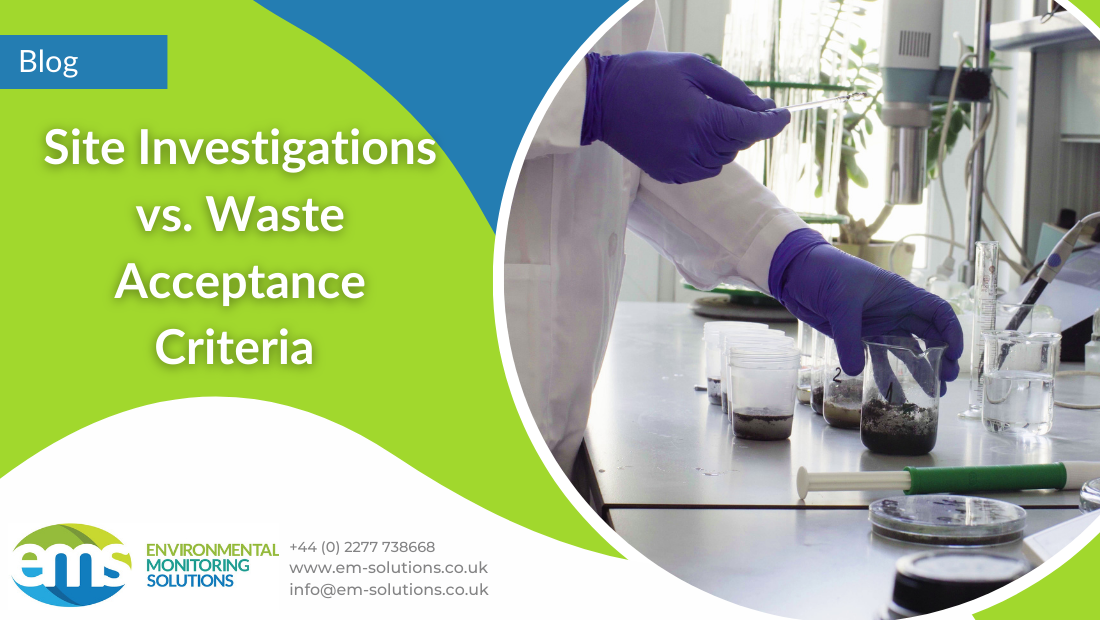 WAC testing may be confused with a test for contamination on site, much like the testing which would appear in a site investigation.
You may unintentionally have a WAC test conducted instead of sampling soil for contamination, if you are unaware of the differences between the two services. In this blog, we aim to draw a distinction between the two.
What is WAC testing?
WAC stands for "Waste Acceptance Criteria" and is used to determine how waste will behave when buried in landfill. The revised Waste Framework Directive defines waste as 'any substance or object which the holder discards or intends or is required to discard'. There is a legal obligation to correctly classify any waste material of which you want to dispose.
What is a Site Investigation?
Site investigations involve collections and assessments of data, and the reporting of potential hazards beneath a site where construction work will be taking place. A site investigation determines the level of contamination and ground condition of a site, and what impacts it could have. This is because previously developed sites may have residue from industrial processes within the soil, meaning that contamination with heavy metals, asbestos and hydrocarbons may be present at dangerous levels for human health and the environment. Or, the ground could be generating ground gas which can be present inside buildings and make occupiers unwell.
A Site Investigation can be grouped into the following stages:
Soil Investigation – where contamination will be addressed
Geological survey maps
Preliminary investigation (research)
A detailed site investigation, determining the impact of prior use of the land
A supplementary investigation to analyse external factors that may affect construction, and construction control.
(UNOPS)
What is the purpose of a site investigation?
The purpose of site investigation is to establish parameters for the foundation of a construction project, and to assess the potential contamination risks to humans, property, and the environment. This helps to ensure adherence to regulatory requirements, such as EA legislation.
What is the difference between a site investigation and a WAC test?
WAC testing, on the other hand, is specifically to determine if waste will be accepted at landfill. WAC testing involves a solid and leachate analysis, and a site investigation similarly involves soil analysis to determine the profile of soils on the site.
What is involved in WAC testing?
Waste Classification is achieved by a waste classification test, to tell you whether the soil is hazardous or non-hazardous. Then you can conduct a WAC test to ascertain where it can go. These tests can be done in conjunction with each other to have the complete information ready for landfill.
For the waste to be disposed of at landfill, a basic characterisation (or level 1 waste assessment) must be carried out. This will help assign the class of landfill site where the waste should be sent. The waste must meet the waste acceptance criteria (WAC) and waste acceptance procedures. Hazardous waste must meet the WAC for landfill for hazardous waste before it can be accepted at landfill.
WAC testing involves a solid analysis and leachate analysis. The solid analysis determines how organic the material is and tests for key contaminants. The leachate analysis determines the level of contamination that will potentially leach out of the material once it is in the landfill, which could then impact groundwater or surface water.
There are three types of WAC testing: inert, hazardous, and stable non-reactive hazardous waste testing. While inert and hazardous landfills are common, stable non-reactive hazardous landfills (or cells within a landfill) are much rarer; these landfills typically accept material which is non-hazardous chemically but contains hazardous levels of asbestos.
Why is WAC testing important?
Regulators such as the Environment Agency can fine companies for not complying with waste legislation. Not only does WAC testing help avoid legal and compliance issues, but it minimises the volume of hazardous waste requiring disposal also saves on costs, as non-hazardous and inert landfills are cheaper than hazardous landfills.
(gov.uk)