EMS-Sponsored Snooker Spectacular is Roaring Success
27 August 2021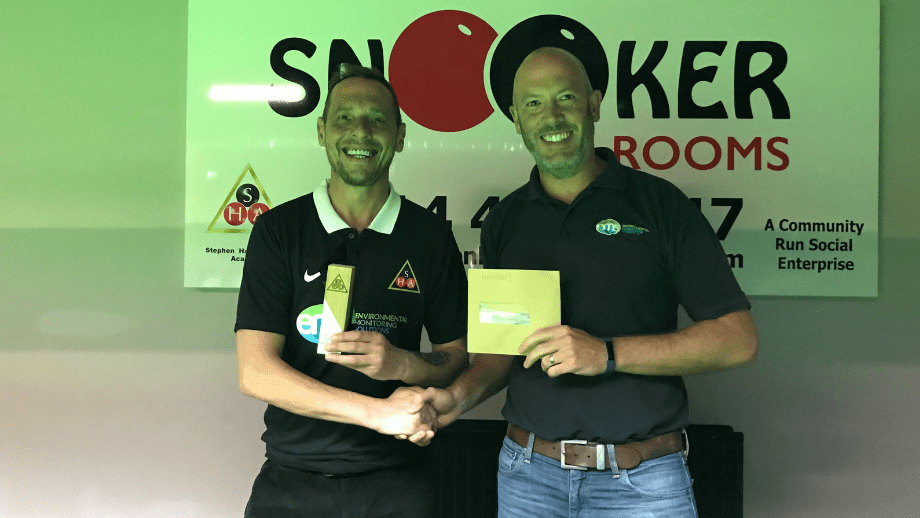 On the 14th August the Stephen Harrison Academy hosted the Sheffield Seniors Snooker Spectacular, which was sponsored by EMS. The Stephen Harrison Academy is a not-for-profit, community run organisation that has been providing snooker coaching to children and adults with physical and learning disabilities since 2007.
The founder, Stephen Harrison, planned this showcase event for people in Sheffield and the surrounding area in memory of his aunt who helped him grow the enterprise, which has now been running for 14 years. The event featured some of Sheffield's finest ex-professional and amateur snooker players from the 1990s.
He says: "My main focus is on disability snooker players, or anyone who wants to take up the sport at a grassroots level, so we've not done anything like this before."

Stephen also wanted to test his own game as he played professionally for 12 years in the UK and overseas, taking inspiration from his father who was world paraplegic Snooker gold medallist in 1985. The event was a chance for the community to gather and test their game after having been constrained by Covid for so long.
"We've had 20 odd people asking if they can join the event next year. Other great players around the UK want to enter. The Sheffield Snooker League has also promoted it and provided the referees who volunteered their time for this. Some of our members were even talking to the referees about how they would like to become one – one gave his white gloves to a member."
During the event, David Portman managed to knock out the former World Championship finalist Nigel Bond and progress to the final where he was soundly beaten by Stephen.
"The level of players was absolutely superb. The players from Saturday all know about the work that I carry out with the disabled community and they are all very supportive. They want to volunteer their time and want to pass on everything they know about the game to the younger kids."
The event was about putting something on for the players and spectators, but also about the children learning the etiquette of the sport and how to focus. Emphasising the importance of Snooker for the academy's members, Stephen says:
"We can see the children really concentrating and go into a subconscious rhythm when they play. It's all mindfulness – first thing in the morning at the academy we take six deep breaths, we do a lot of breath work and work on keeping a positive mental attitude. This helps the children because then they are less focused on what is going wrong, and more focused on achieving a goal."
The SHA was profoundly affected by Covid, financially and in terms of the support required by its members, explains Stephen:
"We have had to think outside of the box due to Covid and use various small funding pots. Especially for the sessions for the 18 to 25 year olds. More often than not, especially with lockdown, the members have been struggling with their mental health so we have had zoom sessions and an on-call service where they can ring us up and talk about their problems. It's not just Snooker but also counselling. Instead of having the same redundant days, we've held quizzes and had top professional Snooker players host zoom sessions for the kids."
The SHA provide a number of different services, such as the SHA Parental Support Service with an online forum, support group sessions, training, and socials. Thankfully, despite being hard-hit by Covid, the academy has expanded into a new venue at the East end of Sheffield – the old Attercliffe swimming baths.
"We are just settling in there, we do need to expand further as we have a waiting list. We have a Saturday waiting list, and we also have a list for the holidays. We do need to keep this venue and look for a more central one in Sheffield, so we can reach more children in need of our service."
After the success of this year's Sheffield Senior's Snooker Spectacular, the academy are already certain of making this a yearly event. "We've linked up with EMS and they've supported us for many years now. Kieran Williams has been very supportive of what we do. We're keen for EMS to sponsor us again next year."

The event was sponsored by several local businesses, if you or your business are interested in sponsoring future events held by the Stephen Harrison Academy, get in contact at info@stephenharrisonacademy.com or call 0114 478 8047.