Environmental Issues in the Spotlight: Food waste
27 November 2019
This week we will be focusing on the alarming effects of food waste on our environment and its concerning statistics. According to research by WRAP and estimates accumulated by the Food and Agriculture Organization of the United Nations (FAO), one-third of all food produced in the world for human consumption – approximately 1.3 billion tonnes – is lost or wasted (FAO, 2019). Despite this, it has been calculated that about one in nine people on the planet do not have enough food to support them with leading a healthy lifestyle. With the global population set to reach 9.8 billion by 2050, reducing food waste has been identified as essential to meet the increasing global demand for food.
Food waste and the environment
Not just inefficient, food waste leaves terrible impacts on the environment. Producing the food we eat, requires enormous stretches of land – land that has likely suffered from deforestation; contains soil that has been degraded; was a habitat for endangered species, and may have previously housed indigenous populations, causing them to be displaced. You may have heard, for example, of the devastating effects palm oil has had on many of the world's rainforests, primarily driven by an increased demand for the product in the northern hemisphere.
Producing food also requires excessive amounts of water. Agriculture is by far the largest consumer of the Earth's available freshwater, and it has been estimated that 25% of this available freshwater is used to grow food that is never eaten (Hall et al, 2009). It's also worth noting the additional resources that go into the production of wasted food, such as energy (fuel for transportation, electricity to operate food factories and farming equipment), packaging including single-use plastics, fertilizer, animal feed and human labour. The inefficient use of food as an end-product therefore leads to wasted resource throughout the supply chain.
Finally, food waste can lead to severe environmental impacts once it becomes a waste. Food that is disposed of via landfill, which is where the vast majority of it ends up globally, will begin to decompose and produce methane – a greenhouse gas that is 23 times more potent than carbon dioxide once it enters the atmosphere and contributes to global warming. It is therefore imperative that where food becomes waste, the waste hierarchy (Figure 1) is applied. This ensures as much energy from food is recovered as possible and harmful emissions are avoided.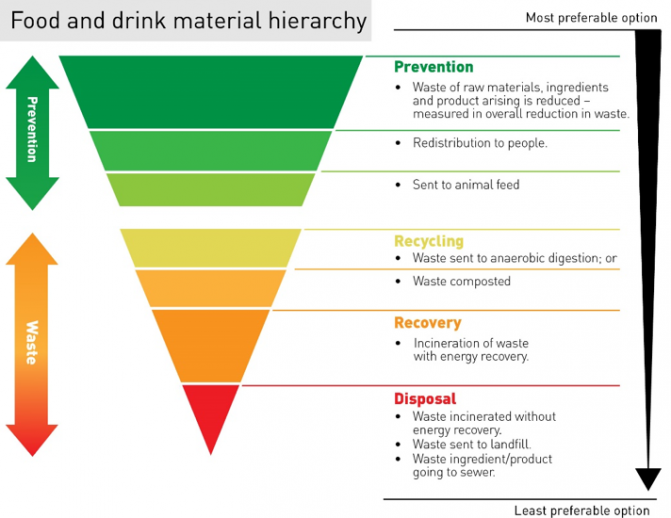 Securing the future of food
Inefficiency in the global food system has significant economic, social and environmental impacts. In response, the UN Sustainable Development Goals have set a target to half global food waste per capita by 2030. In addition to food waste occurring at the end of the supply chain, this target also includes food loss occurring throughout the food supply chain (FSC) during the food production and manufacturing process.