How is MANTIS™ making an impact?
18 August 2021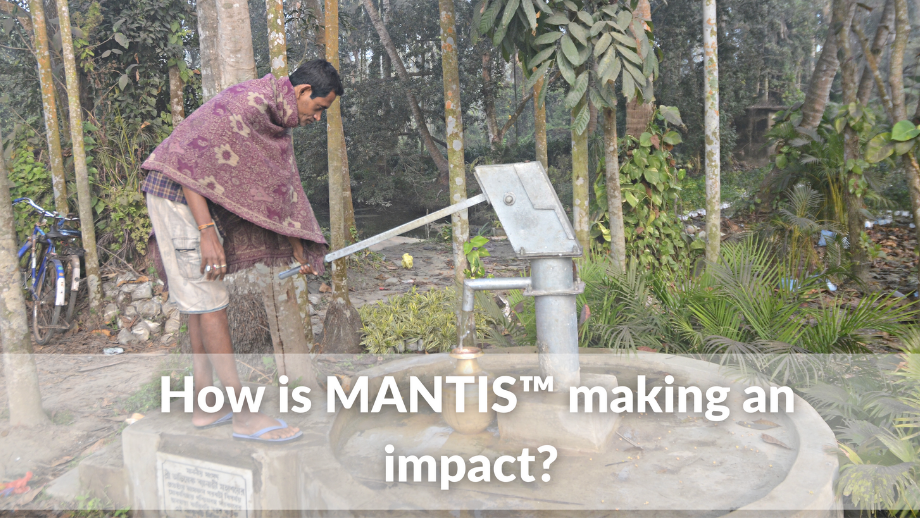 Throughout developing nations, hand-operated pumps are commonly used to lift groundwater from wells. Surveys show that many pumps (up to 65% in some African countries) have stopped functioning properly. US Aid estimated that broken hand pumps represent $1.5 billion (£1.08 billion) of lost investment in Sub-Saharan Africa alone. Fitting the pump is only the first step in establishing clean water access. This is what MANTIS is addressing.
Pumps are vital to communities, which are often entirely reliant on them. Inadequate service can result in disease, hardship and death. A study reported that 20–65% of handpumps installed in a range of African countries were broken or out of use, while another recent report claimed that 30–40% of rural water systems in developing regions were failing prematurely. Approaches must now shift towards monitoring and maintenance (RWSN) (IWAPONLINE).
This is where the MANTIS™ pump-monitoring system comes in. The system was successfully field trialled in the Gambia and Sierra Leone in 2017, and then in 2020 near Kolkata in northern India. In collaboration with Leeds Beckett University, EMS developed a sensor over the course of several years that attaches to drinking water handpumps. The sensor detects pump usage and notifies the pump operators of any failing or inefficient handpumps, or when they have ceased to be used completely. This allows for any issues to be investigated further. It is named MANTIS™, standing for "Monitoring and Analytics to Improve Service". 
MANTIS™ helps to improve repair times, and ensures continuous clean water access. This ties into goal number six (availability of water and sanitation for all) of the sustainable development goals that the United Nations set in 2015 as part of the 2030 Agenda for Sustainable development.
MANTIS™' remote online monitoring technology is especially important with regards to sustainable development goals, as the sensor is low-cost with low energy requirements. It has a simple design, and the monitor has a long lifespan relative to its competitors. MANTIS™ also requires little maintenance or power, and returns data on a daily basis via an accessible web interface which ensures swift repairs.
Units have already been deployed to monitor hand water pumps in Sierra Leone and The Gambia, and Innovate UK's Phase 1 Global Challenges Research Fund awarded the project funding to assess transferring MANTIS™ to the Indian Subcontinent. In India currently up to 80% of the population relies on groundwater for both drinking and irrigation. As well as detecting mechanical failure, MANTIS™ also detects non-use due to social and environmental concerns such as groundwater contamination and water stresses.
"The simple approach employed by the MANTIS™ system reduces power requirements," says Professor Pete Skipworth, Managing Director of EMS, "which enables the system to function for longer – we estimate undisturbed for five years or more – and also reduces its production costs. Our field trials in sub-Saharan Africa demonstrated the efficacy of the system, enabling us to fine tune the technology."