Net Zero Versus Carbon Neutrality
27 October 2021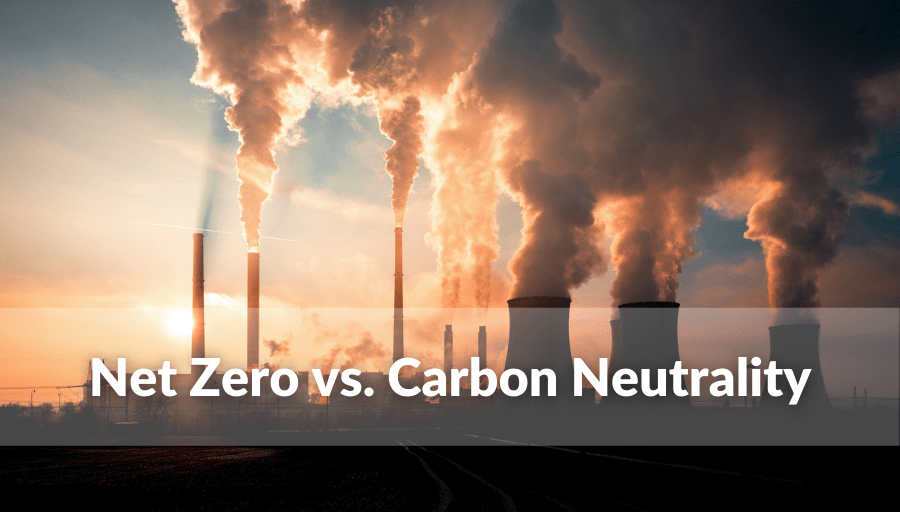 What is Net Zero?
Net Zero usually refers to Greenhouse gases (GHGs), unless the phrase "Carbon Net Zero" is specifically used. Net Zero refers to the point at which emissions stop contributing towards global warming, which is zero Emissions, as when these emissions increase, they cause a direct increase in the speed at which the planet heats.
What is Carbon Neutrality?
Carbon Neutrality refers only to carbon and does not involve other greenhouse gases, such as methane, in which case the term "climate neutral" might be used.
"Carbon Neutrality" means that the carbon released into the atmosphere due to a company's activities is then balanced by an equivalent amount being removed. This equivalent amount can be made up from offsetting activities, like investing in environmental projects (for example, planting more trees).
Carbon Neutrality can be achieved by buying 'carbon credits'. This gives permission to emit carbon dioxide or GHGs, if those emissions are offset – usually by supporting GHG-reduction initiatives.
What are the key differences?
The key differences between Carbon Net Zero and Carbon Neutrality is that Carbon Neutrality does not imply a reduction in emissions. Net Zero Carbon means that an activity emits no carbon into the atmosphere. However, to be considered carbon neutral, a business needs to offset the carbon emissions it produces even if the emissions are increasing. A commitment to carbon neutrality does not require (or even necessarily imply) a commitment to reduce overall GHG emissions. On the other hand, Net Zero usually means carbon offsetting only as a last resort. 
The offsetting ideally should be used to counteract the last, purely essential emissions that remain after all available reduction initiatives have been implemented. Carbon offset schemes are not always used appropriately in practice. For example, if trees were planted on natural grasslands or peatlands, they could end up adding more carbon to the atmosphere than they remove. This is due to carbon-rich soils being disturbed. (Nature-Based Solutions Initiative)

Timings should also be considered. It takes longer for a tree to absorb carbon than it takes for a car to produce the same amount. If we are to meet net-zero by 2050, we need to put thought into how we should approach offsets.
Why is Net Zero more important to tackle climate change?
As carbon neutrality does not imply a reduction in emissions, emissions can actually be increasing while a company claims to be "carbon neutral". This is sometimes called "greenwashing" – when companies mislead their consumers with their "green" credentials. Consumers may be led to believe that by using a particular company's products or services, they are minimising their environmental impact or doing something positive for the environment, whilst a company's emissions may be increasing.

What are your thoughts on Net Zero versus Carbon Neutrality?