Net Zero: What Challenges Will my Business Face?
26 January 2022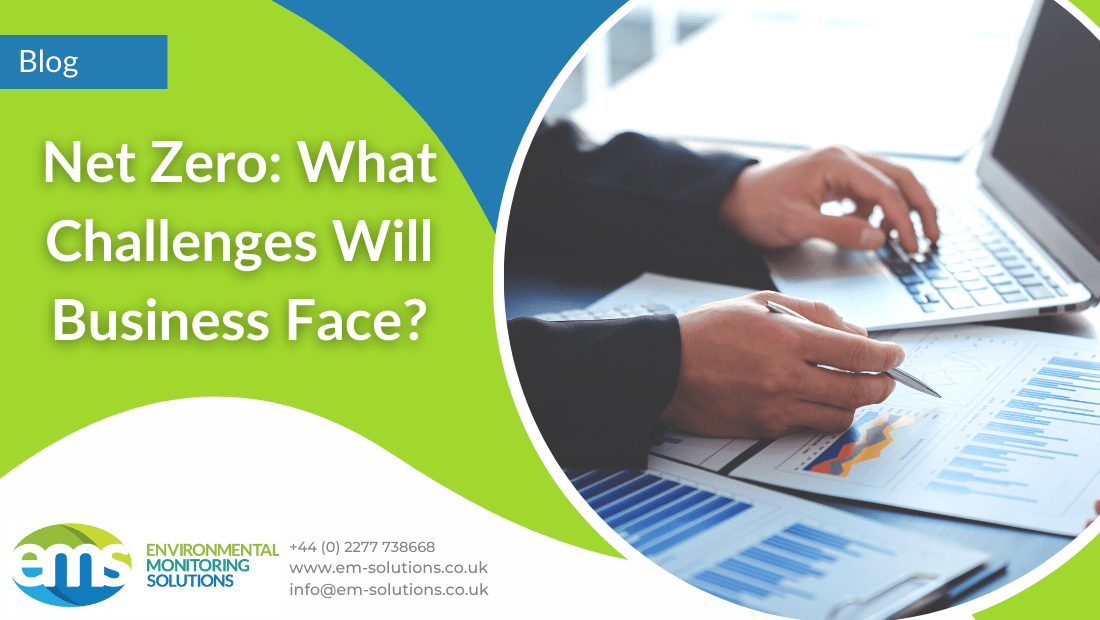 Net Zero: What Challenges Will my Business Face?
Growing need for systemic change to tackle the climate crisis means that companies must adapt how they function. Achieving net zero is now a core organising principle for business. Net zero refers to achieving a balance between the amount of greenhouse gas emissions produced by a business or institution and the amount that is removed from the environment. To get to this point, rapid reductions in emissions must be enacted.  
The net zero aims of countries and companies are converging on targets to limit warming to 1.5°C, to prevent further acceleration of the climate crisis. Many of the net zero commitments made in Glasgow at the COP26 came from coalitions of the stakeholders—governments, financial institutions, and companies.
What issues could businesses face on the road to Net Zero?
Lack of data
Business must be able to gather their emissions data to take meaningful action towards achieving their net zero target. Many businesses do not own the building that they operate from and therefore it is not always possible to install meters to measure energy usage. This means there would be a requirement for proprietors to play a role in energy management.
Another form of data which can cause difficulty when measuring emissions is transport data. To get a good understanding of transport emissions data, businesses will need to collect from different sources and work in harmony with divisions like fleet management and finance.
Monitoring of emissions could take place across a large site, with many data collection points. These may have varying responsible personnel. To tackle this problem, tools are available to help with environmental data acquisition, collation, and visualisation.
Investment
The transition to clean supply chains would require customers to request the service, shipping companies to invest in vessels that run on zero-emissions fuels, fuel producers to make more of those fuels, and banks to provide capital for these endeavours.

However, Caterina Brandmayr of Green Alliance (an independent think-tank) points out, taking steps sooner rather than later is not simply good for the planet; it is also about uncovering significant economic opportunities.
"Reducing energy and material waste, and using cheap renewable energy, will cut costs to business while reducing emissions." She also states that "…the transition to net-zero is also about a transformation to entirely new products and services that will benefit consumers as well as the environment." (ft.com)
Over-reliance on offsetting
Net-Zero Tracker suggests there is a potential over-reliance on carbon offsetting and a lack of progress in concretising offsetting plans. Two-thirds of businesses assessed by Net Zero Tracker had not specified any information on how and why carbon credits will be used. (edie.net) There is also the risk of encountering cheap credits of dubious quality. When carbon credits are poorly implemented, this can have a negative impact on the environment. For example, when tree plantation is not carried out correctly it can cause soil erosion, expose more species to agri-chemicals, and create monocultures. (news.mongabay.com)
Carbon credits are going to experience a sharp increase in price if their quality cannot sufficiently be improved. According to Bloomberg New Energy Finance, carbon offset prices could increase 50-fold by 2050, if efforts to improve the quality of carbon credits are not sufficient. (Bloomberg)
The onus should therefore be put on reducing emissions rather than offsetting carbon.
Scope 3 emissions
Scope 3 emissions are often over-looked when evaluating a company's carbon footprint. Scope 3 emissions are indirect emissions and include those in the supply chain, and from business travel and employee commuting. A post COP-26 stocktake of 200 businesses' net zero targets revealed that most businesses (68%) have not set net-zero targets that cover all of their indirect (Scope 3) emissions. 43% of businesses have targets that cover no Scope 3 emissions. (edie.net)
To measure Scope 3 emissions, organisations can:
• Assess where the emission hotspots are in their supply chain
• Identify energy risks in their supply chain
• Identify which suppliers are leading in sustainability performance
• Identify energy efficiency and cost reduction opportunities in the SC
• Engage with employees to reduce emissions from business travel and employee commuting -for example using cycle to work schemes
"Carbon Tunnel-Vision"
Mitigating climate change requires acknowledging the intersection between carbon emissions and other issues such as the biodiversity loss and resource conservation. Keeping the bigger picture in mind prevents "carbon tunnel vision" and means that key environmental issues are tackled simultaneously often yielding better results. (nature.com)

While businesses are beginning to implement carbon net zero targets, water net zero is gaining momentum. 10 million tonnes of greenhouse gas could be saved if we reach water net zero two decades ahead of the UK Government's legally binding target of 2050 (water.org). Moving and treating water is incredibly energy intensive; to tackle this collaboration between companies, the supply chain, and policy makers will be necessary.
Is your business already facing any of these issues on your journey to net zero? Let us know on Twitter or LinkedIn.