Tackling Flooding using AI – EMS meets with MP to discuss Water Industry planning for Climate Change
5 March 2020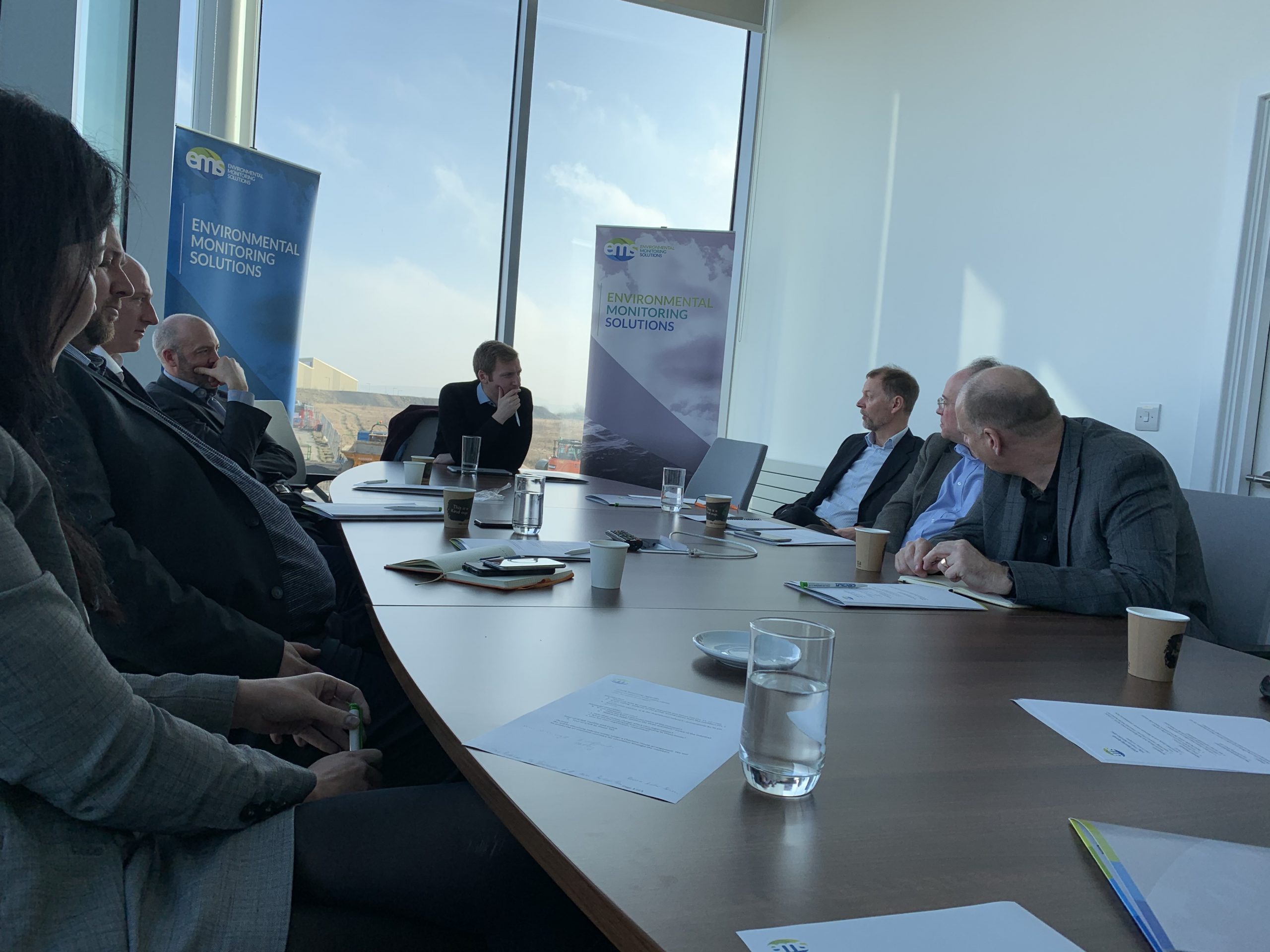 EMS hosted a session between North East Derbyshire MP, Lee Rowley, and water industry stakeholders to present the case for Artificial Intelligence I to protect customers and the environment against recent extreme rainfall events.
Held at the University of Sheffield's new £9.2m infrastructure research facility, ICAIR, the group focused on the relationship between Government policy and the wastewater industry's plans to tackle the challenges that we face due to climate change and urbanisation.
Lee recounted the distress he hears from communities within his constituency, where some residents suffer repeated flooding due to the incapacity of ageing sewer networks and unfortunate quirks of topography in the areas in which they live. With greater demand for housing, construction is occurring more and more within areas already at risk; conflated with increasing frequency of extreme rainfall events, this has the effect of trapping residents in the misery of repeated flooding.
Lee Rowley commented,
"I'm grateful to EMS for organising the seminar and giving us the opportunity to discuss these important issues. Flooding is something at the forefront of the minds of communities in North East Derbyshire and it seems to me that technology and AI are part of the long-term solution. There is much work for Government to do in this area to ensure we find new ways to protect communities in the future."
A main talking point was on how autonomous control systems powered by AI can go some way to protecting properties currently at risk. As we enter the new water industry investment cycle, called AMP7 which runs between 2020 and 2025, companies are being asked to do more for less in achieving the service levels promised to customers; without passing the cost on to the customer. It is particularly difficult to economically justify an upgrade to a sewer simply to protect individual properties.
Nevertheless, this does not diminish the significance flooding has to homeowners. One way to address this is to look at alternatives to expensive upsizing projects by looking at smart technology to better manage the current sewer set-up. Active flood control is an emerging field of technology that is now proving to be highly effective in mitigating against localised flooding and spills from sewer overflows into our rivers.
EMS presented on the CENTAUR™ system – an autonomous, intelligent monitoring and control system to reduce flooding and uncontrolled discharges to the environment. CENTAUR™ has been successfully protecting a UNESCO World Heritage Site from flooding in Coimbra since 2017. It has a high positive environmental impact and makes use of existing infrastructure.
The CENTAUR™ system recently won the prestigious Solar Impulse label – a challenge to select 1000 solutions that can protect the environment in a profitable way. It is the 320th solution to be labelled and the 12th from the UK.
Dr James Huntingdon, Smart Wastewater Business Unit Manager at EMS said,
"AI really is finding its place in the water industry. We were thrilled to be able to exchange ideas and understand from Lee government policy-making during these climate conscious times."
The meeting was held at the ICAIR centre which is on the University of Sheffield's AMRC site. EMS works with the University of Sheffield where we have collaborated in developing and testing our AI-based autonomous control systems for the water industry.